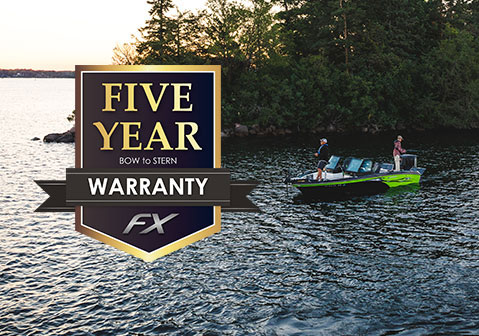 Factory Backed Limited Lifetime Structural Hull Warranty + 5-year Limited Warranty
Larson FX customers are a offered standard a 5-year limited warranty in addition to our limited lifetime structural warranty, giving you and your family the protection and assurance you deserve. At Larson FX, we are dedicated to our craftsmanship and providing you, our valued customer, the commitment of excellence with the best warranty protection in the marketplace. Under the 5-year bow-to-stern + lifetime structural warranty, we cover 100% materials, parts and labor with no pro-rating, no third-party hand-offs, no warranty transfer fee and no "read between the lines" statements to leave you second-guessing.
LIMITED LIFETIME STRUCTURAL HULL WARRANTY:

As an owner of a new Larson FX, you receive a Limited Lifetime Warranty on the boat hull and structural components. This includes the fiberglass molded shell and integral fiberglass components which are below the hull flange. If anything goes wrong during the entirety of your ownership, we'll fix it.

5 YEAR LIMITED WARRANTY:

As an owner of a new Larson FX, you receive a Five-Year Limited Warranty on all remaining parts and materials that are not covered by the Limited Lifetime Structural Hull Warranty, or another manufacturer's warranty. We guarantee that all parts and materials will be free from defects in materials or workmanship.

NO PRO-RATING:

Larson FX boats carry the same valuable warranty whether it's the first day or the last day of the warranty period. Larson FX does not use a declining scale of coverage in its warranty, also known as pro-rating.

TRANSFERABLE WARRANTY:

The Larson FX Limited Lifetime Warranty is transferable from one owner to another if the Buyer sells the boat within five years of the date of purchase.
If you have any questions get ahold of your local Larson FX dealer or contact us.